North American Hunting
Saskatchewan Black Bear Hunt
Hunt Huge Black Bears in the Spring from baited stands.
Hunt Black Bears in Saskatchewan
We are in a one (1) bear per each license area. It is estimated to have between 60-70 thousand black bear and we hunt in Northwest Saskatchewan. The area is just north of the Meadow Lake Air Weapons Range, which is a 1700 square mile game preserve with no hunting. By hunting the area north of the Weapons Range, we are assured of a great number of mature bears. The average bear in Saskatchewan is between 6-6 ½ feet nose to tail. Our average is between 6 ½ - over 7 feet nose to tail. This is really trophy hunting!  
Our established baits have produced our biggest bears this year. With expansion in the logging and oil industries we will again have more new areas to hunt. At present we are tending over 150 miles of baited roads and trails. 
Comfortable
Camp Facilities
Our camp consists of several wood cabins; all having both wooden floors and bunks. There is a maximum of seven per cabin. The cook area is a 16'x 26' log cabin, which is on a cement floor. All the cabins have electric heaters in them. These cabins are very spacious and, in bad weather, you are high and dry off the ground. There are electric lights in each cabin and we have water pressure for hot showers. Also included in camp is a very luxurious building built which houses a hot sauna and showers.
We try to have no more than 8-10 hunters in camp, but will accommodate special requests. We would be glad to add an extra hunter. We provide a very comfortable rustic wilderness camp. 
A Winning
Bait Program
The bait we use is the very best. Trophy size bear love to keep coming back to this smorgasborg. We have three (3) baits for each hunter and permanent stands. We use up to 40,000 lbs of bait per year. We fed these bears well and it pays off for our hunters. We have over 25 bait sites. In a week's hunt, past hunters have seen well over 10 bears in a single sitting. Some nights there were over 100 different bears seen in a single afternoon.
Hunting
With Style
The hunting style is over baits and for the archery, rifle, or black powder. This method has proven successful.
Most of the archery stands are between 10-20 yards. Full camouflage is required for the archery hunters. We are not an archery only outfit but we meet all the needs of archery hunters. We provide targets to keep you 'sighted in'. The archery bear hunter has a good chance of getting a Pope & Young bear because our average size is 6 ½ - over 7 feet nose to tail.
NOTE: Rifle hunters must wear Orange/Red hat and Vest.
Transportation
to the Hunt
Option 1 is to fly into Saskatoon, Saskatchewan. From there you can rent a car and make the drive north (approx. 6 ½ hours), to La Loche, Saskatchewan.
Option 2 you can fly into Edmonton, Alberta, then to Fort McMurray, AB. From there you charter a flight to La Loche, SK.  If you choose to fly, you can book flights with McMurray Aviation for about the price of $450.00US / 3 passenger plane per trip. Bigger hunting parties must rent a bigger plane or make the extra trips. 
Hunt Cost (all prices in USD)
Archery, rifle, or black powder. Starting at the beginning of May until mid-June. (All inclusive prices.)
5 Day Bear Hunting – 1 on 1
Bear & Fishing | $5450
Rate includes bear hunting license but does not include fishing license.
5 Day Bear Hunting – 2 on 1
Bear & Fishing | $4850
Rate includes bear hunting license but does not include fishing license.
3 Days – Fishing
Lake Sinclair | $1250
Lake Langley | $1750
Rate does not include fishing license.
Non-Hunter | $1500 USD
Cost of Licensing
Bear License $350
Fishing License $100 (fishing license is free for those 15 years old and under)
Hunt Includes
We add value to your purchase by including ALL of the following in the hunt:
All guide services
Food and Accommodations during your hunt with us
Care of trophies
All taxes are included
Hunt Excludes
        

Airfare

        

5% Canadian Goods and Services Tax (GST)

        

Gratuities to staff

        

Hunting Safety Harness

        

Ammunition

        

Hunting license approx $225 USD/person

        

Hotel and meals before and after your hunt

        

Taxidermy work  or shipping
Terms
Our terms and conditions for booking a hunt:
$2,000.00USD deposit is required - Balance due 60 days before hunt date
If a hunter must cancel his/her hunt, the deposit will not be refunded
Taxidermist
We have a Taxidermist in Edmonton, Alberta that will look after your needs and ship the finished product to you (at your own expense) if you don't want to carry the hides home with you.
Policies
Firearms Policy
The archery hunter must supply their own equipment. The black powder and open sight rifle hunter must be prepared for low light shooting. You will have to lighten the front sight to shoot a black bear in low light. In Saskatchewan, your rifle must be over .23 calibre and the empty cartridge must be over 1.75 inches.
Wounded Bear Policy
A wounded bear is considered a dead bear. If any blood is found at the location, the hunter must surrender his tag.
Great Weather;
However, Consider This
In May and June weather is generally warm during the day and quite cool at night. Bring a medium to heavy sleeping bag and pillow. A good warm jacket is necessary for the evening stands and rain gear is also a good idea as it is "springtime" in Saskatchewan.
Accreditation & Affiliations
This outfitter is a member of the Saskatchewan Professional Outfitters Society (SPOS). We measure our success by the high percentage of return clientele. We feel that return business is a testimonial to the quality of our hunts.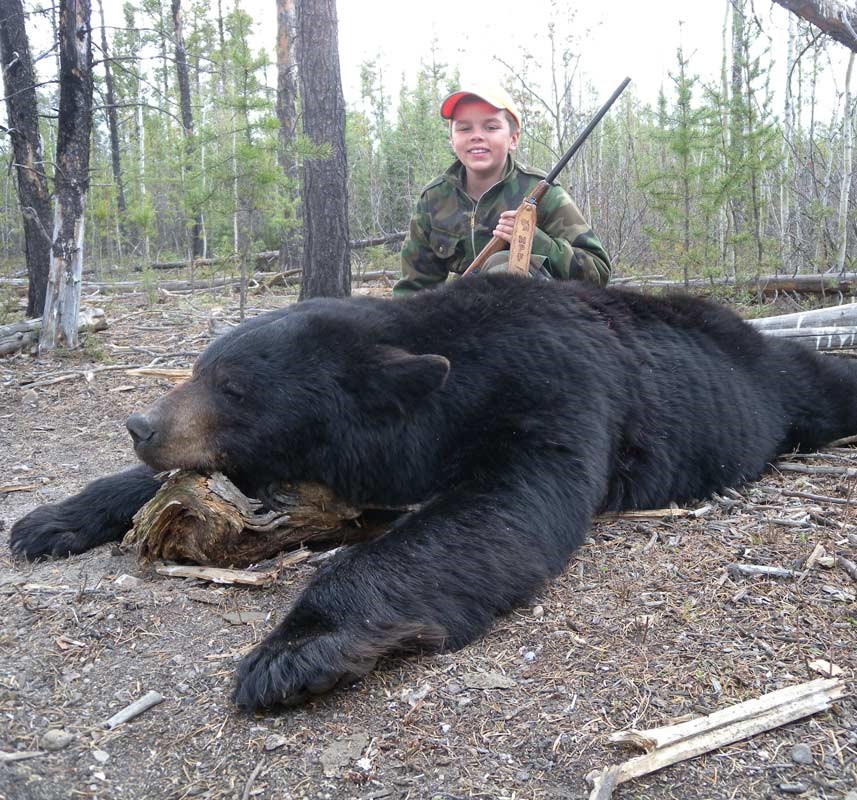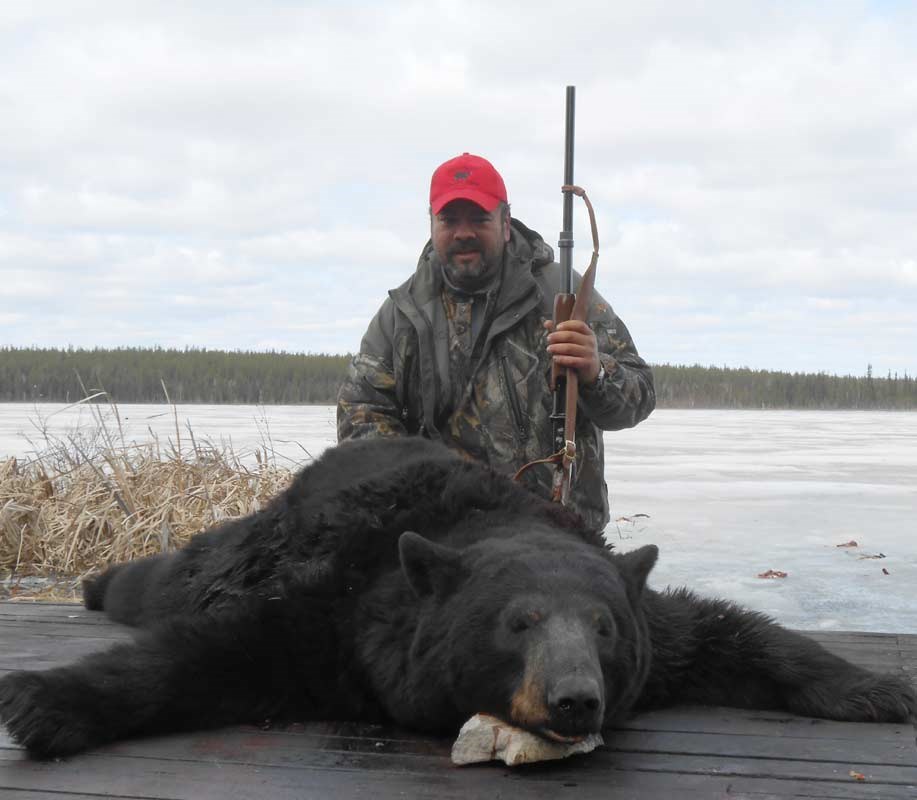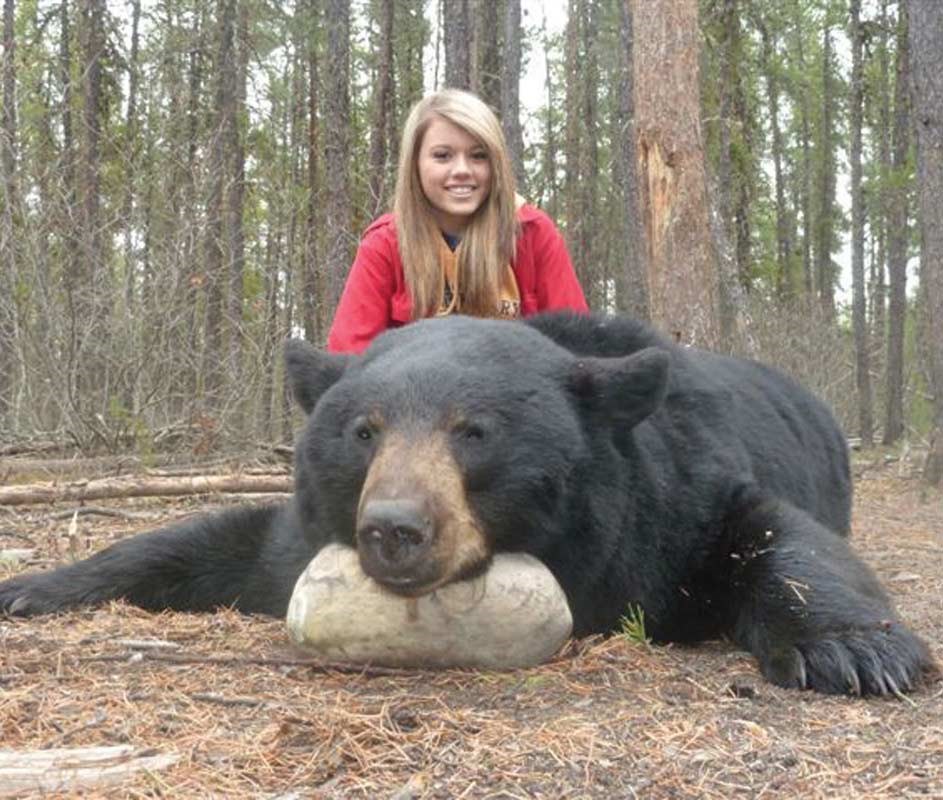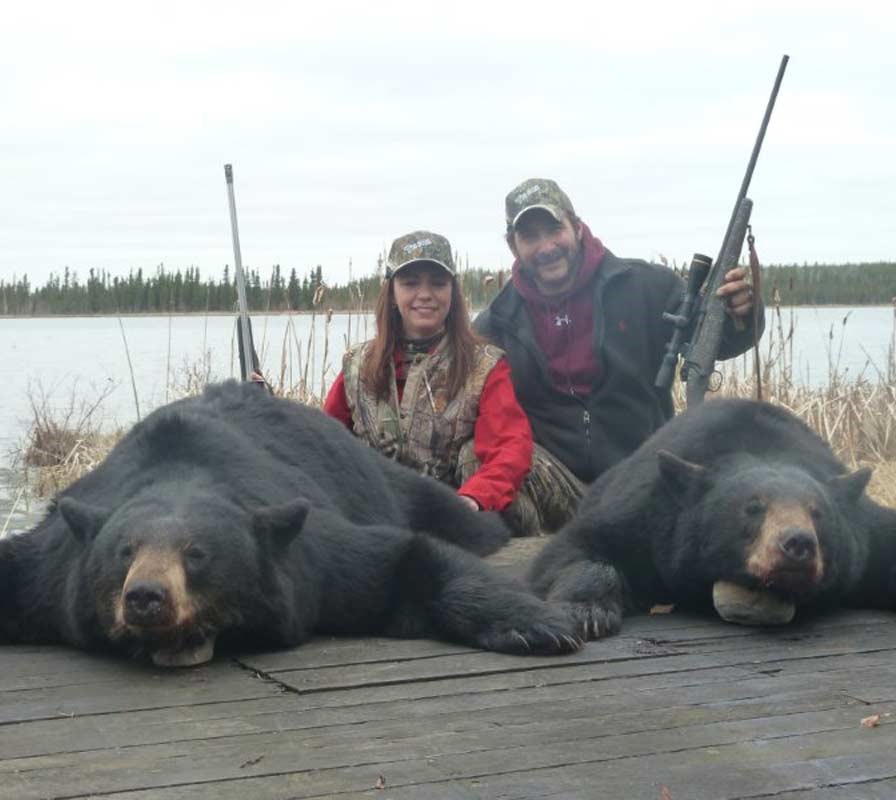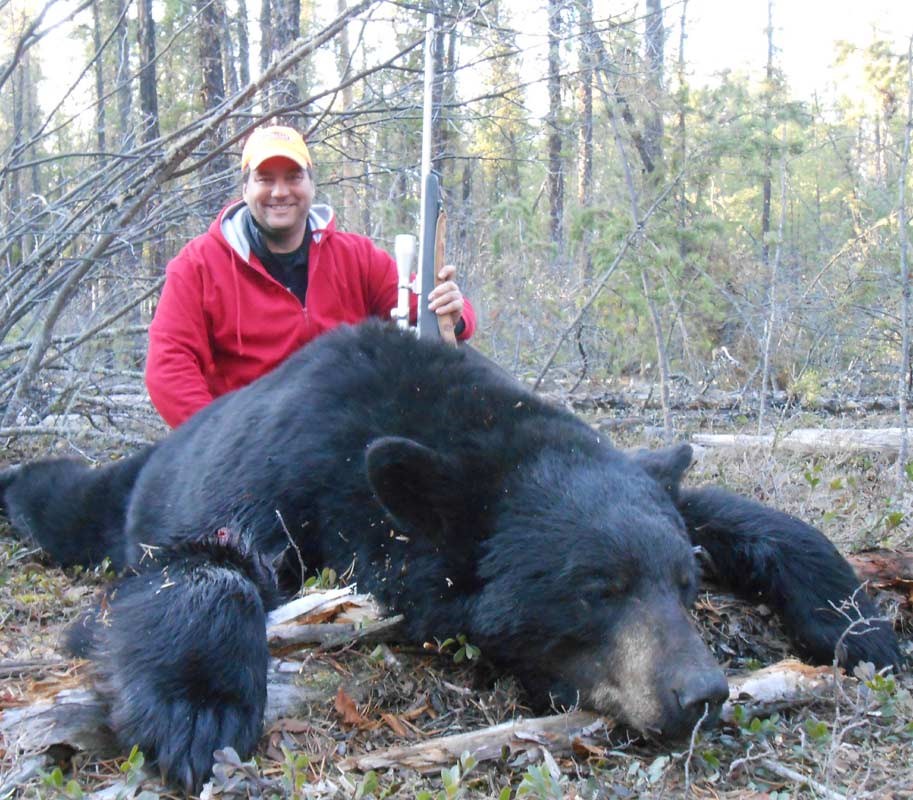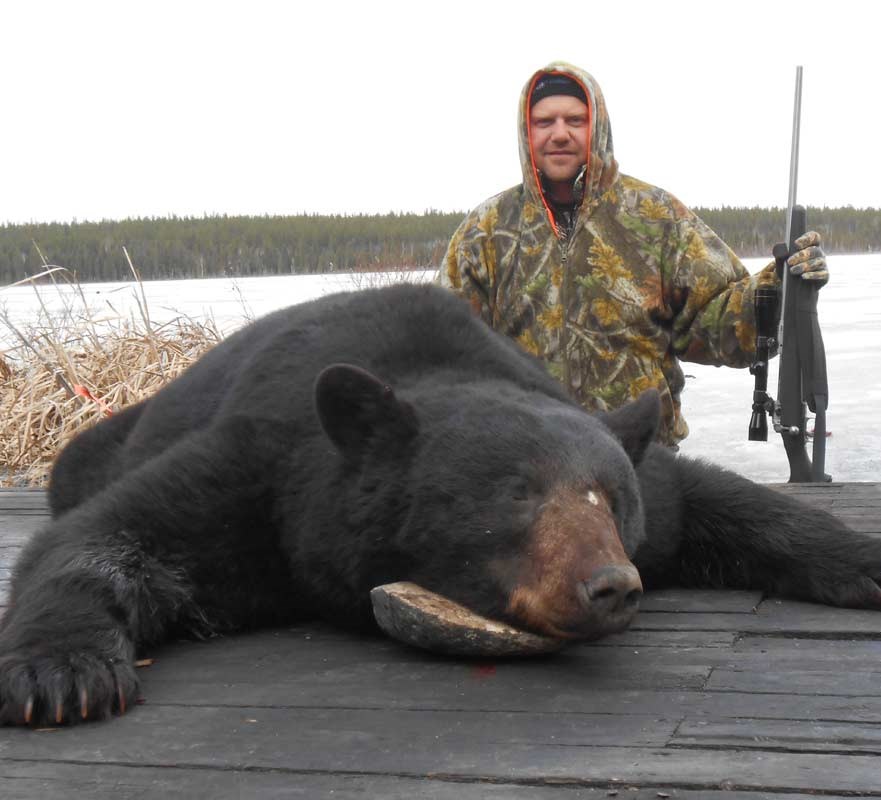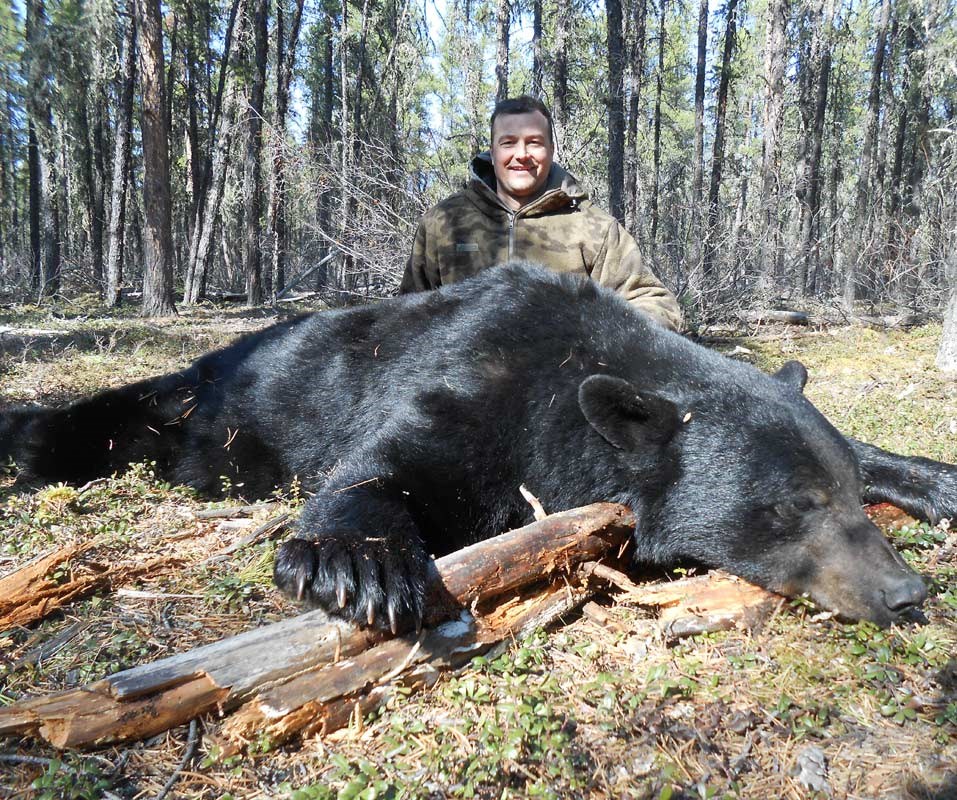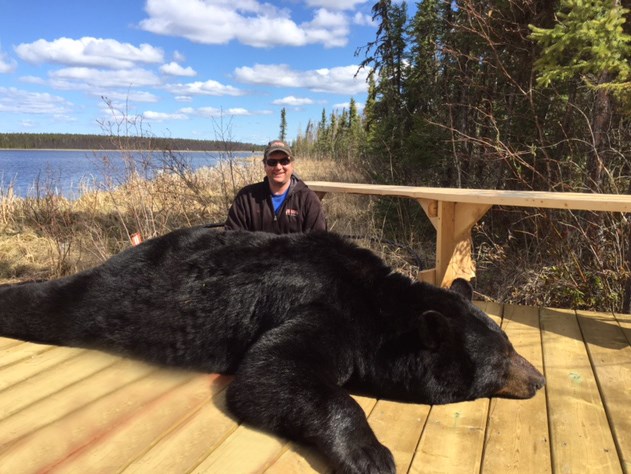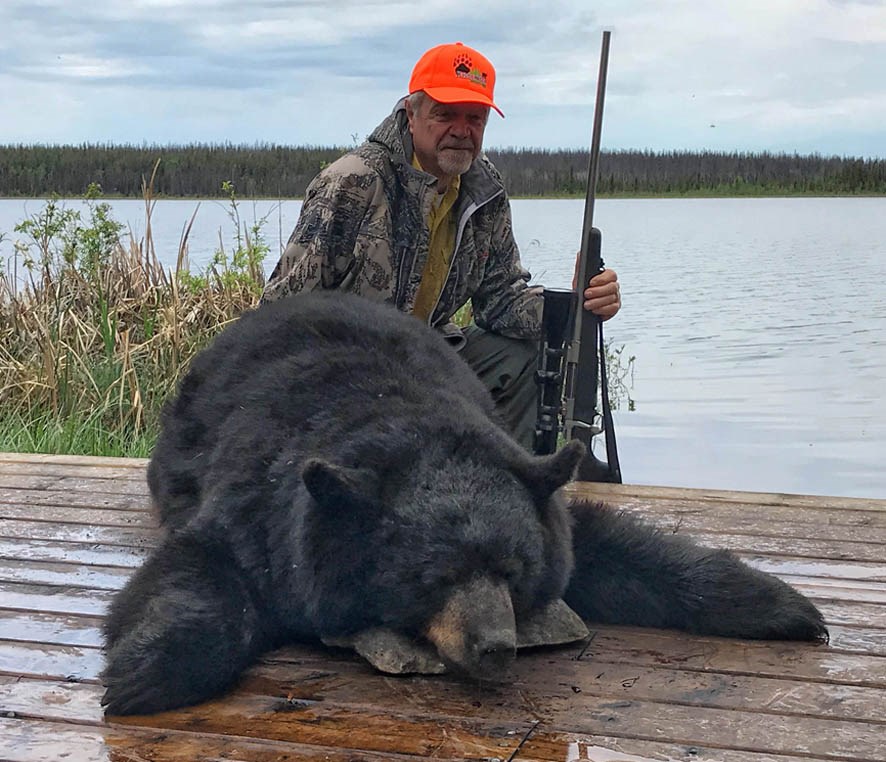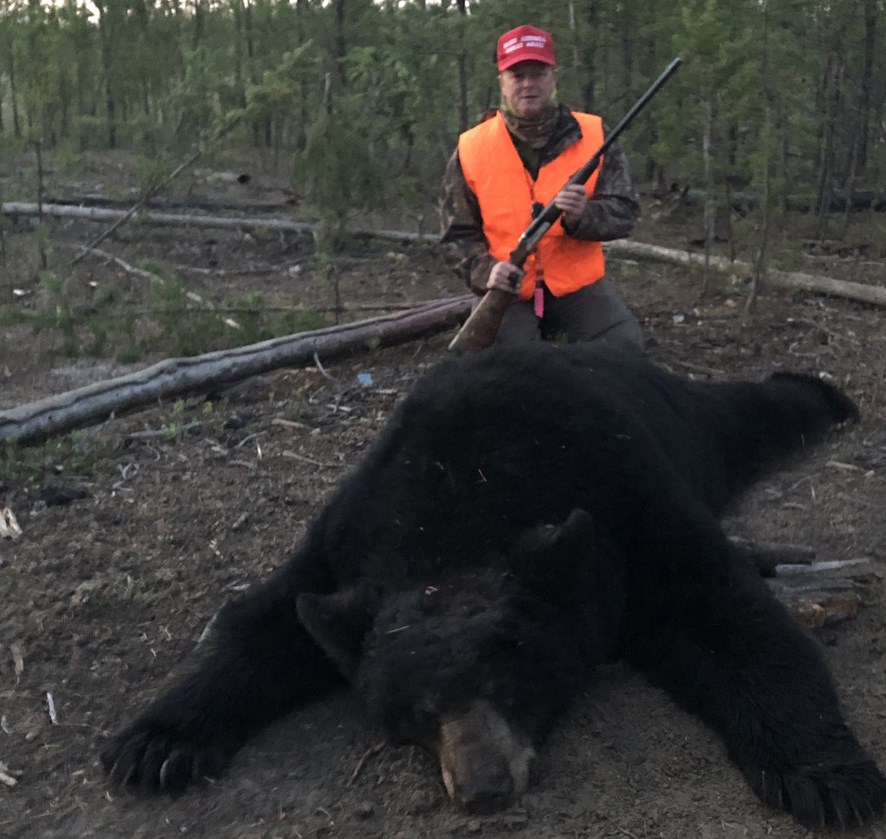 Interested in this hunt or have questions?
Contact Ameri-Cana
Contact Us